Robert Nicholson donates custom bulldog sculpture in Butler NJ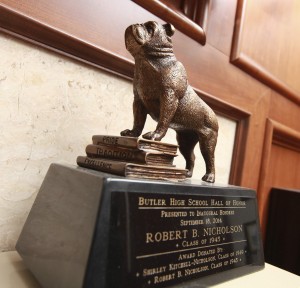 We worked with the great Robert Nicholson to create this amazing school mascot for his former high school.  I was excited to work with Mr. Nicholson as he has been doing business with us for many, many years.
On Oct. 15, a formal dedication ceremony was held at the Butler High School for the unveiling of the six-foot bronze bulldog mascot standing proudly on three books labeled "Pride," "Tradition" and "Excellence." Sparta resident Robert Nicholson, Class of 1945 and his wife, Shirley Kitchell Nicholson, Class of 1949, graciously donated the statue on behalf of their whole family.
Nicholson was joined by three of their four children — Debra Lynn Nicholson-Marcellus, Linda Nicholson McRoy and Robert Bruce Nicholson — to present the statue, Mrs. Nicholson was unable to attend due to health reasons. In attendance was BHS Board of Education members, boro representatives, superintendent of schools and several 1940s BHS alumni.
BHS Principal Martin Wall opened the ceremony by welcoming everyone and thanking those involved with helping with the arrangements for the dedication ceremony. He offered a special recognition for a local contractor and family attendee of Butler High School who donated their talents and materials to create the beautiful courtyard setting of a winding paver sidewalk, paving stone for the bulldog, and a retaining wall with a background of shrubbery. Wall went on to give a brief history on how the project came to light from an old photograph of a bulldog mascot on a pile of books, found three years ago by BHS athletic director, David Doty.
"What was special about this statue in the photograph was the books," Wall said. "The books serve as a reminder that you need both physical and intellectual preparation to be most successful in life."
Bob and Shirley became involved in the project about two years ago, when planning for the inaugural induction of honorees to the Butler High School Hall of Fame.
"The statue is dedicated to the students of Butler High School and to those who choose to inspire others in their pursuit of excellence," Bob said. "Shirley, I and our family wanted to thank everyone associated with Butler High School, which was the foundation of my successes today."
After graduating from Butler High School, Bob went on to have a successful business career, helping build his family-owned business, Eastern Propane Corporation, now the largest distributor of propane in the state. He is also the co-founder of Lakeland Bank, which today has over 60 branches throughout New Jersey.
Bob and Shirley will always hold Butler High School close to their hearts. They hope that seeing the bulldog everyday in the BHS courtyard will be an inspiration for the pursuit of excellence in life to the students and future generations passing through the halls of Butler High School.
We are the largest designers, manufacturers and suppliers of medium size to monumental size bronze sculptures, fountains and school mascots in the world.  From one of a kind bronze art to full limited editions and more, we can create any design into a 3 dimensional work of art to enjoy.
Need a custom design???? Contact us anytime Monday through Friday, 9:00am to 3:00pm at (302) 738-2190  or email us at sales@allclassics.com.
Here at All Classics Ltd, we have over 35 years of experience in the business of wood carvings, hand-carved Cigar Store Indians, Bronze sculpture and fountains, school mascots, commercial grade fiberglass sculptures, commercial grade playground equipment and full color LED Electronic Signs. Our knowledge helps get the design you want in a quality unlike the others as we only use the finest materials in our work, plus with no "ego" in our pricing, you will see why working with us is an absolute pleasure you will be pleased with for many decades to come.
See more of our designs at www.allclassics.com, www.bigbronze.com, www.bronze-mascot.com and www.playgroundarchitect.com