Completed Past Mascots
Completed custom mascot designs by All Classics Ltd, www.bigbronze.com.  From giant rearing horses to bull dogs, we can create anything from waist high to as big as your imagination can take you.  We have created two giant bronze tigers (2 styles) for Towson University in Towson Maryland, many custom creations for Arthur Furman and Associates, Maple Heights High School in Maple Heights Ohio, Larger than life Spartan soldier for South Paulding High School, our famous giant bull for University of South Florida's St Petersburg Campus and so much more.  Take a look through our photo gallery and www.bigbronze.com for more designs available and contact us for a quote to create your school, university or business's mascot in bronze that will last forever.
Click on the above photos to go directly to our smugmug photo site to see photos of each design from start to finish.  If you want to go directly to our photo site, go to allclassics.smugmug.com/browse and look around as photo galleries of custom mascots being made for many clients and we try to update everyday.  From life-size bronze mascots of Robert Morris to The Lady of Grace for Benedictine College plus large animal mascots of Towson Universities Tiger, Appoquinimink High School's Jaguar on Rock and even our famous Spike Bulldog as well.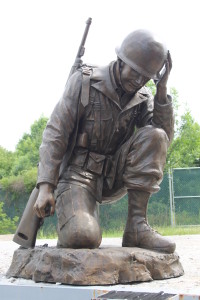 After you have browsed our extensive gallery of previous custom mascots and the mascots currently in production, go to the "Get a Quote or Contact Us page" Fill out the form and we will contact you plus get a quote to do your school/university/business or agency's mascot in long lasting, lost wax cast bronze.
At All Classics Ltd, we never include any "artist ego" in our pricing which keeps costs lower then the competition.  From desktop awards to monumental sculptures and fountains, we can make any design into a truly amazing piece(s) of art.  Click on the catalog photos for our exclusive foundries and shop for a pre-designed mascot to suite your needs and budget or click the link at the top of the page to submit your information to our design team for a quote to create your vision.
bronze, bronzes, sculpture, sculptures, statuary, statue, statues, custom, creation, casting, lost, wax, horse, horses, school, schools, elementary, middle, high, private, public, vocational, spartan, bulldog, bull, dog, mustang, mustangs, bull, viking, vikings, warrior, indians, indian, native, american, america, affordable, art, decor, decoration, sports, baseball, football, basketball, hockey, golf, previous, clients, some, styles, available, special, order
All images property of All Classics Ltd (www.allclassics.com / www.bigbronze.com)